Tales of the Peculiar is a unique book of fairy tales set in the world of Miss Peregrine's Home for Peculiar Children, the internationally bestselling series by Ransom Riggs.
Do you know what lived in the ancient forest, before we walked the earth?
Do you know of the giants and cannibals who came before us?
Do you know the origins of the first ymbryne?
These are the stories that came long before us peculiars, and that will outlive us all.
Trade Paperback
9780141374482
September 19, 2016
Puffin (UK)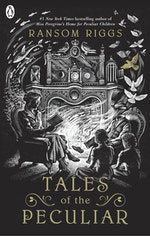 Paperback
9780141371658
October 16, 2017
Puffin (UK)